PERSISTENCE TOUR 2020 - Berlin Show - mit: Agnostic Front, STREET DOGS, H2O, Gorilla Biscuits
Revaler Str. 99
10245
Berlin
Event organiser: M.A.D. Tourbooking GmbH, Heidelberger Str. 65/66 , 12435 Berlin, Deutschland
Event info
Persistence Tour 2020! Every year - it rumbles in January enormous! When Europe's longest-running and most successful Indore Festival tour for Hardcore, Punk and what´s going on there, returns impressively. With some of the best names the world of Hardcore has to give as well some of the new wind the list of Bands who started or refreshed the carrier via the tour is after all the decade's kind of endless. It was the first tour concept tour and it is still running because of you , thank you.
Location
Astra Kulturhaus
Revaler Straße 99
10245 Berlin
Germany
Plan route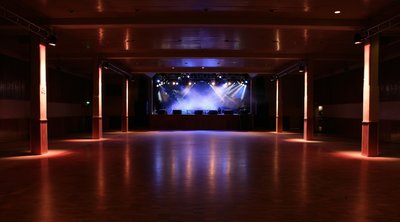 Im Astra Kulturhaus in Berlin gastieren regelmäßig heiße Acts der Indie-Branche. In kürzester Zeit hat sich das Astra zu einem der beliebtesten Veranstaltungs- und Partyorte der Stadt etabliert. Besucher erwartet dank einzigartigem Abiente, super Akustik und tollen Live-Acts ein absolutes Feier-Highlight!

2009 hat das Astra Kulturhaus seine Pforten direkt an der Warschauer Brücke im Herzen Berlins eröffnet. Im ehemaligen Kulturhaus der Reichsbahn finden regelmäßig Konzerte und Partys ganz im Zeichen des Rock, Indie, Pop, Elektro und Punk statt. Das Astra Kulturhaus ist nicht schicki-micki sondern mit seiner Graffiti-bemalten Fassade eher typisch künstlerisch, rau und retro à la Berlin. Es hat eine 1-A-Akustik und ist damit beim Publikum äußerst beliebt. Im Astra Kulturhaus geht es entspannt zu – es gibt keinen Dresscode und das einzige Credo lautet Spaß zu haben in besonderem, ansprechendem Ambiente. Der große Konzertsaal ist mal bestuhlt, mal frei um zu Tanzen. Künstler wie Lykke Li, The Subways oder auch Bruno Mars waren hier schon auf der Bühne gestanden. Jeder Abend im Astra Kulturhaus in Berlin verspricht perfekt zu werden, denn der Club zählt einfach zu einem der besten der Stadt.

Auf dem Gelände am Astra Kulturhaus gibt es keine Parkplätze. Damit empfiehlt es sich mit den öffentlichen Verkehrsmitteln oder dem Fahrrad zu kommen. Die S-Bahn-Linien 5, 7 und 75 fahren bis zur Station Warschauer Straße. Von da aus sind es nur noch 500 Meter bis zum Astra. Wer nun Bock hat auf eine Berliner Nacht mit Top-Acts und entspanntem Publikum, der sollte zum Astra Kulturhaus kommen!